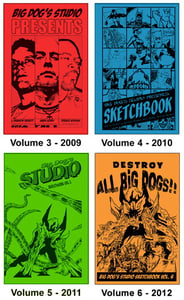 $

12.00
Each sketchbook is 28 pages (70#) b&w with a cardstock cover (65# cover) and contains drawings from several artists.
SKETCHED edition - $10.00 each regardless of volume/year chosen. Sketch will be on the back cover in ink - please note desired character in paypal note or via e-mail. (please no obscene requests)
Continental US only please.
Available:
- vol 3/2009 - featuring art by Brandon Padgett, Mark Godby and Terence Hoskins (limited quantities)
- vol 4/2010 - featuring art by Brandon Padgett, Mark Godby and Terence Hoskins
- vol 5/2011 - featuring art by Brandon Padgett, Terence Hoskins and Henry Eudy
- vol 6/2012 - featuring art by Brandon Padgett, Terence Hoskins, Henry Eudy, Stan Ford, Jeremy Brooks and Herc Petmezas
- vol 7/2013 - featuring art by Brandon Padgett, Terence Hoskins, Henry Eudy, Mark Godby, Stan Ford, Jeremy Brooks and Herc Petmezas